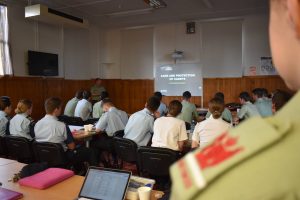 As staffing at Units ebb and flow over the years, all kinds of knowledge and supporting material get created and are lost again.
Until a standardised central resource is available for any unit to draw on, units like 29 Squadron, which are thriving by any reasonable measure for our region, still are held back by the huge investment in creating, managing, and delivering the lessons.
The feeling that every instructor is forced to reinvent the wheel time and time again is probably common.
Until the invisible crisis is solved from the top down, one solution is to share resources between units at Training Officer and Instructor levels.
29 Squadron is in the process of building its own resource library, and while it remains relatively small, is willing to make it available to any other Unit that would like to have a helping hand in getting started.
We can't make this a public resource.  We also need to ensure appropriate lines of communication and reporting continue to be respected.
Therefore, if you would either like to have access to what 29 Squadron has available, like to swap (even better), or like to add to our library (best!), please in the first instance have your people contact our people. (Unit Commanders).