Units from Taupo (TCU), Rotorua (RDCU & 29 Squadron), and Opotiki (OCCU) marched into Waiotapu on Friday night to get settled for a weekend of training.
On the Saturday cadets trained on  basic map reading with a compass, First Aid, and making a stretcher in the bush.
On Sunday, all this gets put together during a Casualty Evacuation training scenario:  Cadets are given a grid reference on a map, and using a compass they are tasked to find a casualty which isn't visible to them from their starting point.
After applying First aid, stabilising the patient, and making them as comfortable as possible, they then make a stretcher with available materials and resources on and around them.
While monitoring the patient the Cadets are then set to the task of Casualty Evacuation over unformed and rough terrain.
That may appear be a lot to ask of the average 13-year old, but cadets rise to the challenge.  This is where New Zealand Cadet Forces succeeds at training tomorrow's leaders.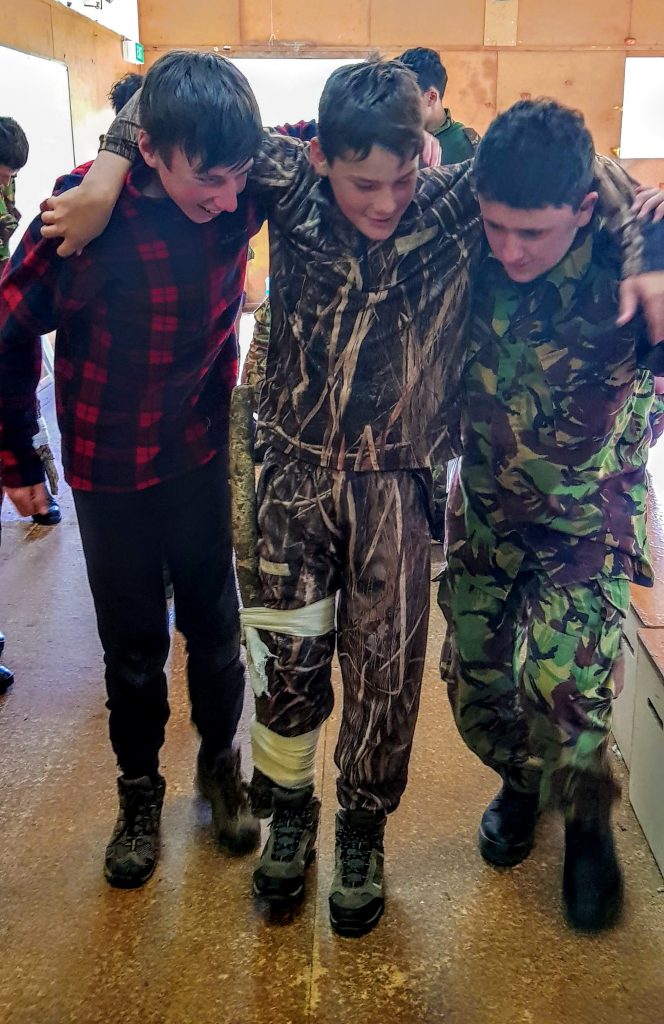 Discipline, team work, mateship, and integrity are the outcomes of our training programme, and the Cadets can't get enough of it.
What results is the confidence in your team to do the right thing, even to the point where you commit your own welfare to others trusting them to keep you safe.  These are huge benefits to have in your skill-set while coming to grips with the world as a young adult.
It is often said for a purpose:  food makes the camp.  Good food and filled bellies are essential for everyone to be able to feel energetic and able to focus on the tasks before them.
In between training as well as morning and afternoon breaks Cadets will line up outside the mess to take on more fuel for the next part of the day.
You might wonder: "Where are the adults?  I don't see any in the photos."
New Zealand Cadet Forces trains kids aged 13+ to start taking on leadership roles from 15 and older.  And although adults are there to support the Cadets and to keep an eye on over-all safety and course progress, the days are essentially run by the cadets themselves.
This is what makes Cadet Forces different and much more valuable than other options.  Your kids are trained for leadership and expected to take on responsibilities as they grow and progress.
If you like the idea of Cadets, or you have some questions, please feel free to come along to one of our our Parade Nights (Wednesdays during school terms).
You can also contact us via the Contact page.
Our collective thanks go to Major Breen and the team at RDCU for being such fantastic and generous hosts.  It was great to meet old and new friends at both Taupo and Opotiki units.  Hope to meet you all soon again.