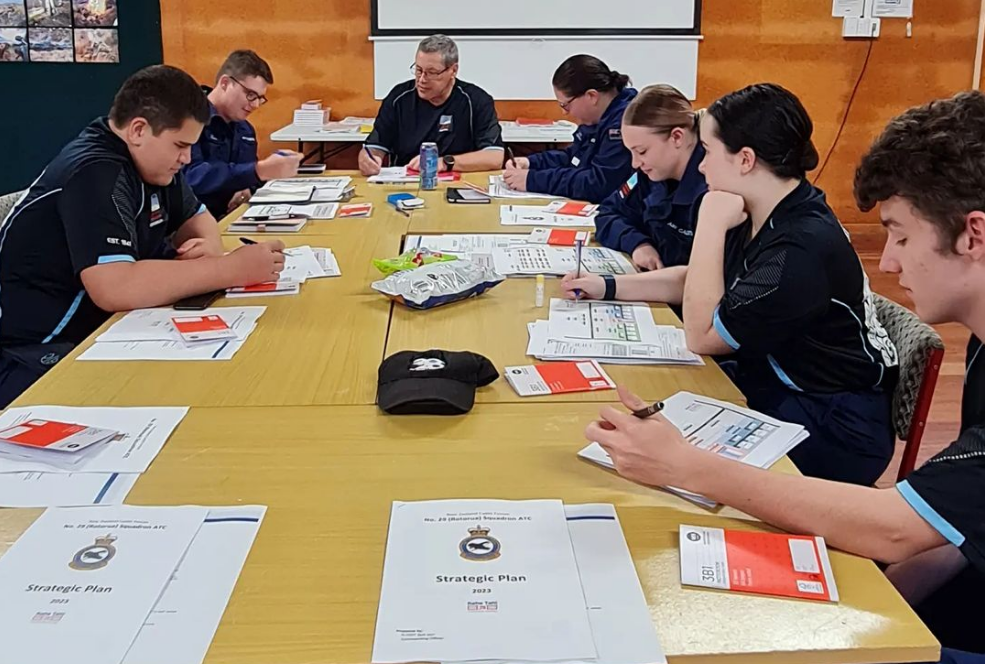 He who fails to plan is planning to fail
Location: 29 Squadron ATC Headquarters
2023: Term 1. Week 1.
Present: Staff and NCOs.
Their mission: To turn 2023 into an unforgettable year of achievements and fun.
Can we get through this year without Covid or other major interruptions getting in the way? It seems an unattainable dream, yet the plan in front of these people assume they can squeeze the last drop from every opportunity.
On the plan? Tramps, Camps, Target Shooting, Gliding, Flying, Ceremonial duties, Community Service, and most of all… fun with friends.
At the same time, our young people will be trained in First Aid, emergency management, two-way radios, Leave-no-trace camps and tramps, bush craft, Firearms safety, Marksmanship, setting and achieving personal goals, Leadership, Cadet and Defence Force knowledge, and more…
…once out of Basic Training, cadets carry on to take week-long courses at Army Camps or Air/Naval bases to train them to first become, and then become even better Non-commissioned Officers.

Opportunities to take part in Cadet exchanges with other countries (Canada, UK, Singapore, etc) become available, as well as Air Navigation, Flying, Drone operating courses held at RNZAF bases.
Beyond that, Senior NCOs can train to become Shooting Coaches, or start their training towards becoming a Commissioned Officer in the New Zealand Cadet Forces by training as an Officer Cadet. After having been a cadet for 4-6 years, This process takes another 1-2 years.
No. 29 (Rotorua) Squadron ATC is now in its 82nd year of operation. We apply the trusted and proven systems used by our own New Zealand Defence Force and other Allies around the world.
—
But first, some people need to sit down, look at the empty year planner, and put it all together.
We have. Now we wait for you to come join 29 Squadron as a Cadet Recruit.

Come visit us any Wednesday night before the school holidays, 6:30 pm, at 23 Geddes Road. We are actively recruiting new cadets now.